Heeeeeeeee. Salam Maghrib. Sebelum masuk waktu ni, nak wat review tentang filem Real Steel yang baru je aku tengok.
Okay fine. I know, I am so
lame sebab da ramai orang buat review tentang citer ni. Tapi nak jugak citer kat sini. Muahahah!
Bagi aku....... Citer ni sangat la besh!! People should bring their daughters or sons sebab basically citer ni pasal a father and son relationship.
Citer ni berlaku di masa future dimana people don't even need 'people' to box. Kira kalau sekarang, manusia masih diperlukan untuk bertinju, but, in this movie depa guna tenaga robot untuk menggantikan manusia. This is not futuristic kinda movie, though.
Citer ni pasal si Hugh Jackman aka Charlie yang menjual hak custody anak sendiri, yang BARU je diperolehi dari mahkamah selepas exgirlpren dia mati (Charlie hasn't seen the boy for 11 years) kepada kakak exgirlpren dia yang kaya semata-mata untuk mendapatkan duit bagi membeli robot baru untuk gambling fighting. Kira macam main laga ayam versi robot.
Sebelum bagi sepenuhnya hak kepada Debra, his ex's sister, dia meluangkan masa dengan Max, anak luarnikah dia. Kat sini la, hubungan depa yang awkward blooms. Gituewwla. Kira secara tidak langsung Max turut bergelumang dengan dunia gambling ni lebih-lebih lagi sejak jumpa robot buruk which is Atom yang 'accidentaly' saved him dari jatuh dalam gaung. Awwwwww!
Nak tau selanjutnya tengok sendiri. Highly recommended! (aku asyik nebes jer, bila sampai part those robots fight. Membunuh jiwa betul)
Picta!
Max dan Atom. Seriously, this boy is hell cute!!
Charlie sedang melatih Atom to box.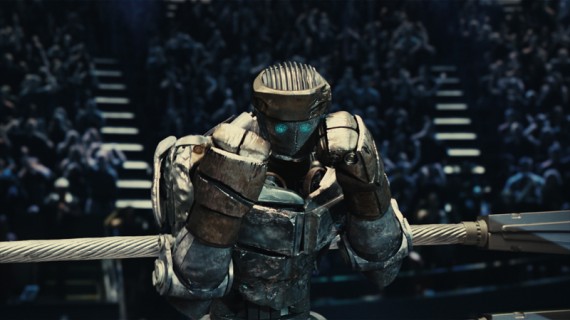 Atom, robot sparring yang perkasa!
Nama-nama robot which i found very interesting:
Ambush
Atom
Noisy Boy
Midas
Metro
Zeus
Tak ingat..
Honestly, i rated this movie, 8 and a half stars .
Bye!