Wanna read about Lian Xun, a real life male doll?
Click here
!!

I never thought she would be THIS fake.
She is still a cutie, though =)
Everything about her is so fake. I just knew it after I watched the video where she went to Japan (the vid got deleted already) . She did not look as cute as she was in her previous videos. She WAS not even close to being bubbly. Her eyes didn't look dolly anymore. Her boops were not busty at all. (forgive me) hahaha. All, thanks to PHOTOSHOP! Hail to PHOTOSHOP! Haha. And most of all, her face did't look slimmer like it always showed in her videos. Blugh.
List of KotaKoti's fakenesses. Tq
Did you remember in any of her vids, where she showed hair tutos, the hair is super thin. Like she almost being a baldy. Ps. Her face is so different here, almost like another person claiming she is Kotakoti.
She should remember her designed lips shape in every picture/ video she edits because, if she did. This wouldnt be exposed.
How could she say she didnt even use fake lashes. and how possibly it would be.. We are HUMAN.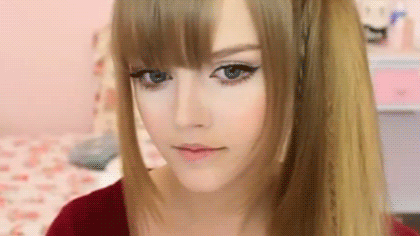 Fake chin. haha. Why she did that. Her original chin looks good to me.
The differences are, eyes, cheeks, lips.. bla bla. Still, she is a cutie. I love KotaKoti, though. I like cute, photoshopped people. Is this a disorder?
Now she is a model for clothes branding. And she doesnt look like a doll
anymore. Just a regular girl doing modeling. Plain average girl with beautiful normal figures.
Source
- click for more pictures
Thanks to THEM:
Read more :